Atlantic Loire Valley, easy to access!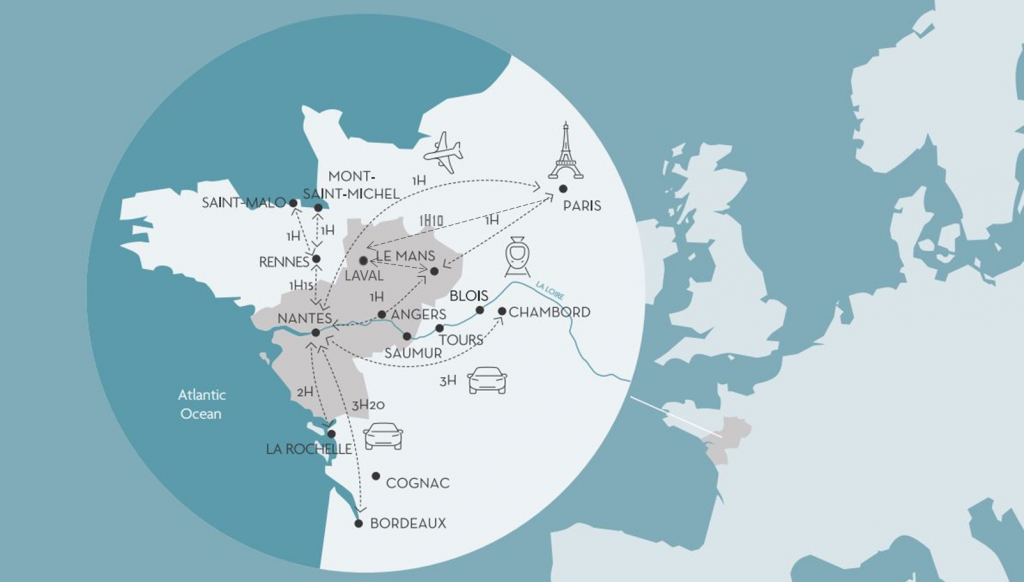 Atlantic Loire Valley is located at the crossroads of major French tourist routes, with Nantes just 2 hours away from Paris by high-speed train.
Getting here:
Nantes Atlantic international airport: direct connections to more than 100 French and international destinations, including the Paris Charles de Gaulle, London, Amsterdam or Munich hubs
TGV trains: from all major cities in Atlantic Loire Valley you can travel to Paris by high-speed train in 50 min. to 2 hours.
A dense motorway network: A11, A28, A81, A83, A85, A87 motorways
1 minute 45 seconds to discover Atlantic Loire Valley
The best of Atlantic Loire Valley in a video!
Atlantic Loire Valley offers a variety of extraordinary activities, a wealth of landscapes and architectural landmarks.
Watch the video and discover the Loire Valley, the Atlantic coast and the vibrant cities of Nantes, Angers or Le Mans. Don't miss vineyards, cycling routes, natural areas and charming villages … Atlantic Loire Valley is the ideal destination for your clients!
17 suggested itineraries
Choose your theme
Download our guides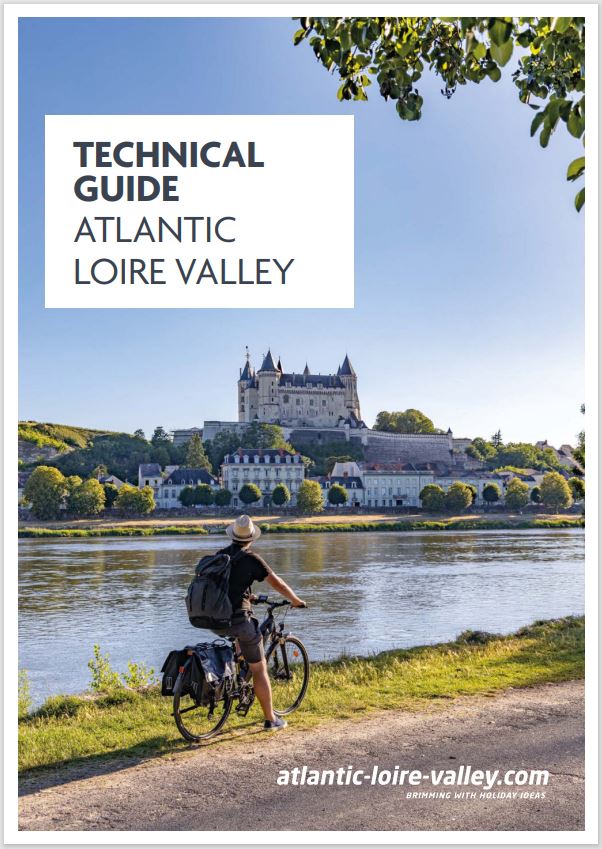 Our technical guide
This technical guide features the Essentials of Atlantic Loire Valley + 15 suggested itineraries in our region. Culture, Art de vivre, Cycling, Seaside activities, City-breaks, Slow Tourism or Wellbeing: discover suggestions that will match your clients' needs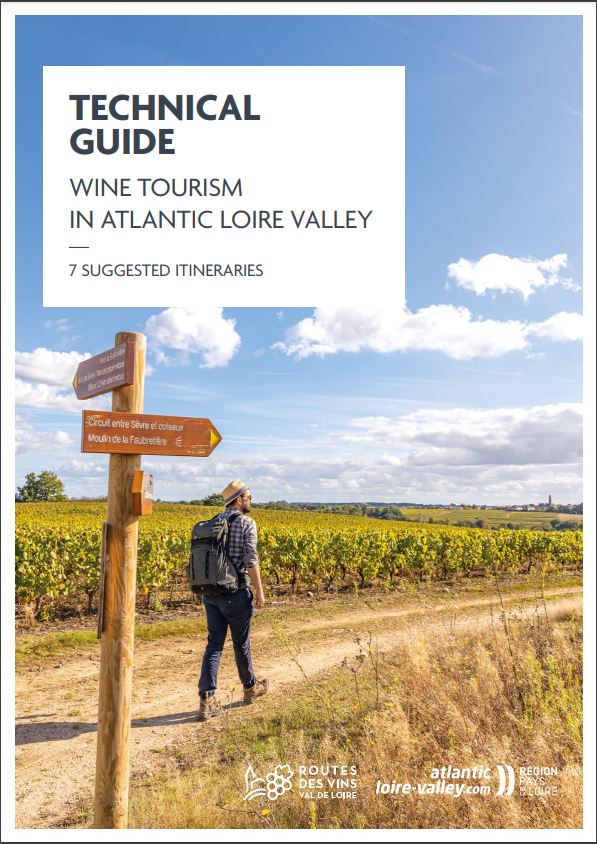 The Loire Valley wine routes + 7 itineraries
This kit was prepared to introduce you into the richness of the Loire Valley and more particularly present to you the newly created wine trails in Atlantic Loire Valley. It describes 7 major wine trails which will allow you to figure out itineraries for your clients, groups or individuals.
DMCs and local agencies to arrange your trips
Here is a selection of local DMCs and GUIDES to help arrange your tours
COMPANY NAME
CONTACT
WEBSITE
PLACE
SPECIALITY
TYPE OF CLIENTS
MARKETS
GEOGRAPHIC SPECIALITY
Atlantic Dtour
Magali Ribault
contact@atlantic-d-tour.com
www.atlantic-d-tour.com
In Vendée, close to Nantes
Generalist
Only groups – B2B
France, Belgium and Luxemburg
Atlantic Coast, Loire Valley and Charente (La Rochelle and Cognac area)
Eden en France
Hanna Hubert
resa@edenenfrance.voyage
https://edenenfrance.voyage/
Pornichet, Atlantic Coast
Generalist
FITs, small groups & groups (B2B and B2C)
USA-Canada, Europe & France
Atlantic Coast, Loire Valley, North Aquitaine (up to Bordeaux vineyards), Brittany, Normandy (up to the Seine River)
Euro Travel Concept – Richou Group
Sophie Joubert
sophie.joubert@richou.fr
eurotravelconcept.com
Between Angers and Puy du Fou
Generalist, tailor-made incoming agency
Groups + Small groups + Incentives – B2B
America and Europe
Atlantic coast, Loire Valley, rest of France and Europe
Loire Secrets
Karine Guyon
karine.guyon@loiresecrets.com helene.lorier@loiresecrets.com
www.loiresecrets.com
By the Loire River, between Angers and Saumur
High-end tours, specialized in culture and wine tours to discover the French art de vivre
FIT and groups – B2B and B2C
MICE : 20 to 400 pax
USA -Canada ; Europe and France
Atlantic Coast, Loire Valley: from Nantes to Sancerre. Normandy and Brittany on request
M-Travelexperiences
Pierre Reverdy
contact@m-travelexperiences.com
m-travelexperiences.com/
Close to Nantes and near La Baule
Enabler of wonder
Small groups
France – Europe – North America – Asia -Australia
Southern Brittany – Nantes – Loire Valley
Nantes Wine Tour
Franck Pasquier
franck@nantes-winetour.com
www.nantes-winetour.com
Nantes vineyard
Guide providing wine tourism services
Specialized wine tour agencies – B2B
North America, UK, Northern European countries and Japan
Loire Valley vineyards : Nantes, Anjou, Saumur and Tours
On se met au vert
Ronan Vignez
ronan@osmav.fr
onsemetauvert-escapades.fr
Nantes
Sustainable and local tours
Small groups, FITs, corporates
Europe and France
Atlantic Coast, Loire Valley, Brittany and Normandy
Parenthèse Océan Voyages
Jean-François Pothier
groupes@parenthese-voyage.fr
contact@parenthese-voyage.fr
parenthese-ocean-voyages.fr
In Vendée, not far from the Atlantic Ocean
Generalist and cycling tours
Groups (namely school groups) and FIT
France and Tour Operators specializing in cycling tours
Western France
Sibylline Escapades
Mathilde Blanchard
contact@sibylline-escapade.fr
mathilde@sibylline-escapade.fr
www.sibylline-escapade.fr
Angers
Surprise stay packages according to your clients' tastes
FIT and corporate
France
Western France
Voyel
Philippe Bély
incoming@voyel.com
voyel.com/incoming-anglais.html
In Vendée, close to Nantes
Generalist
Groups and small groups (from 8 pax)
North America, south America and Oceania
Western France + rest of France for long-haul markets
Photo Library
A selection of pictures to download
Any question?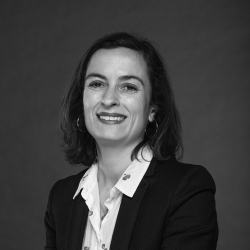 Hélène HAUBOIS
International tourism development
Chargée de développement Tourisme
h.haubois@solutions-eco.fr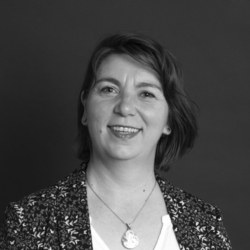 Stéphanie LÉZIN
International tourism development
Chargée de développement Tourisme international
s.lezin@solutions-eco.fr
or send a message to b2b@solutions-eco.fr